World Engineering Day Spotlight: STEM Project Inspires the Exoskeleton Jacket
Indispensable, technological inventors and benefactor of innovation; just some of the descriptions given to engineers for their ground-breaking work. Entering March, Primary Engineer® is joining the celebrations for World Engineering Day, spring boarding awareness for the excitement within engineering. Creating greater prosperity and better quality of life for everyone, Primary Engineer® aspires to transfer these attributes to primary and secondary school pupils during the 'If You Were an Engineer, What Would You Do?®' competition, as the possibilities for selfless, life-changing invention is made evident by 2018's Krystyna Marshall.  
In 2018, a participant of the competition, Krystyna Marshall, submitted the 'Exoskeleton Jacket' to help her younger cousin who sufferers from Spinal Muscular Atrophy (SMA). Krystyna's cousin suffers from Type 1 SMA, which develops in babies less than 6 months old, is incurable and the most severe type of the degenerative disease. Children who suffer from the disease have mobility issues, struggle breathing or eating and are unable to raise their head or sit without assistance. As said by Krystyna, this was the main issue that she wanted to solve for the competition, enabling her cousin to have a more conventional, playful and enjoyable childhood.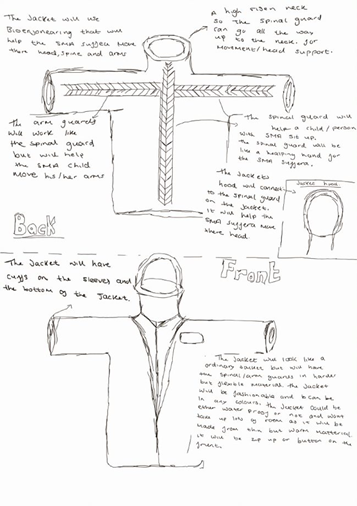 The main aim of the jacket is to add strength and support to the back muscles and spine. To do this, the jacket is made up of three 'guards': spine, head and arms. The spine is intended to help mobility in the user by adding stability and strength, with the connected hood stabilising the guard and adding structure to the nape of the neck. Krystyna herself designed this particular section of the 'Exoskeleton Jacket' to be like "a spine outside of your body", replacing that which has been damaged by SMA. The neckline will also be relatively high, attaching to the head guard to support movement. In essence, "the spinal guard will be like a helping hand for the SMA sufferer." Finally, arm guards work to, once again, improve mobility in the sufferer, allowing day-to-day use that we typically do not give much thought to; making food or a drink, using a mobile phone, even getting dressed are all made impossible by type 1 SMA. Krystyna's annotated drawing suggested a "harder but flexible material", allowing young children to be able to wear it and reap the benefits of her invention. On a cosmetic level, the jacket will be waterproof, lightweight and fashionable, perfect for any weather, accidental spills and withstands changing styles. Having it either zip or button up means SMA sufferers with varying hand mobility will have independence in closing the jacket.  
A team member in the creation of Krystyna's Exoskeleton, Dr. Matthew Dickinson, Course Leader for Meng/BEng Computer Aided Engineering, said: "In engineering, we are taught about the rules and regulations of things we can and cannot do. As professionals this can often lead to simply ruling out what could be a great idea, just because we believe from the start that this could not be done. Imagine if you could tap into innovative thinking that has never met these rules and restrictions. By getting involved with Primary Engineer, you can get that exactly; you are not just helping a young person with their idea, you are also reminding yourself to always think outside of the box."  
The University of Central Lancashire's 'Engineering Innovation Centre' strives to drive regional and national economic growth, as well as bringing the creativity of engineering inventions to life. In her original design, Krystyna suggested metal as a main material, ensuring quality and durability in the jacket. During the planning phase, however, the University of Central Lancashire's School of Engineering thought "the amount of metal needed to create the exoskeleton would make the design too expensive and heavy". Instead, the university 3D printed parts for the jacket, drastically reducing the weight and cost, as well as improving production time and repair cost. In response to the realisation of her 'Exoskeleton Jacket', Krystyna said "a new world [has been] opened up to children with spinal conditions. The invention allows them to carry out simple tasks that were previously impossible, such as sitting up in bed or typing their shoelaces. For children with SMA, this is life changing." Her aspiration in creating a product that serves her younger cousin, as well as the 1.5 million SMA suffers in the UK alone, has validated her engineering efforts. 
Primary Engineer's 'If You Were an Engineer, What Would You Do?®' competition asks pupils from primary and secondary schools to interview industry experts, identify a problem in their surroundings, then design innovative engineering solutions. Alongside their designs, pupils are asked to write a letter to engineers, in hopes of their invention being built, just as Krystyna's was. Every entry submitted is graded and shortlisted by engineers, with a judging panel selects regional winners. In essence, engineers inspire school pupils, but school pupils also inspire engineers. Public exhibitions are arranged, celebrating the ingenuity and determination of participating pupils. In the case of Krystyna, Gatwick Airport, a long-time supporter of the competition, was the perfect setting to showcase the Exoskeleton, highlighting creativity within engineering to the public.   
Krystyna is just one of the amazing inventions we received during the 'If You Were an Engineer, What Would You Do?®' competition. With so many more revolving around the environment, energy, healthcare and vehicles, the possibilities are endless in the minds of inspired pupils. Visit our virtual celebration galleries for last year's shortlisted and winning designs.  
Find out more about the competition and how your pupils can get involved, visit: www.leadersaward.com.