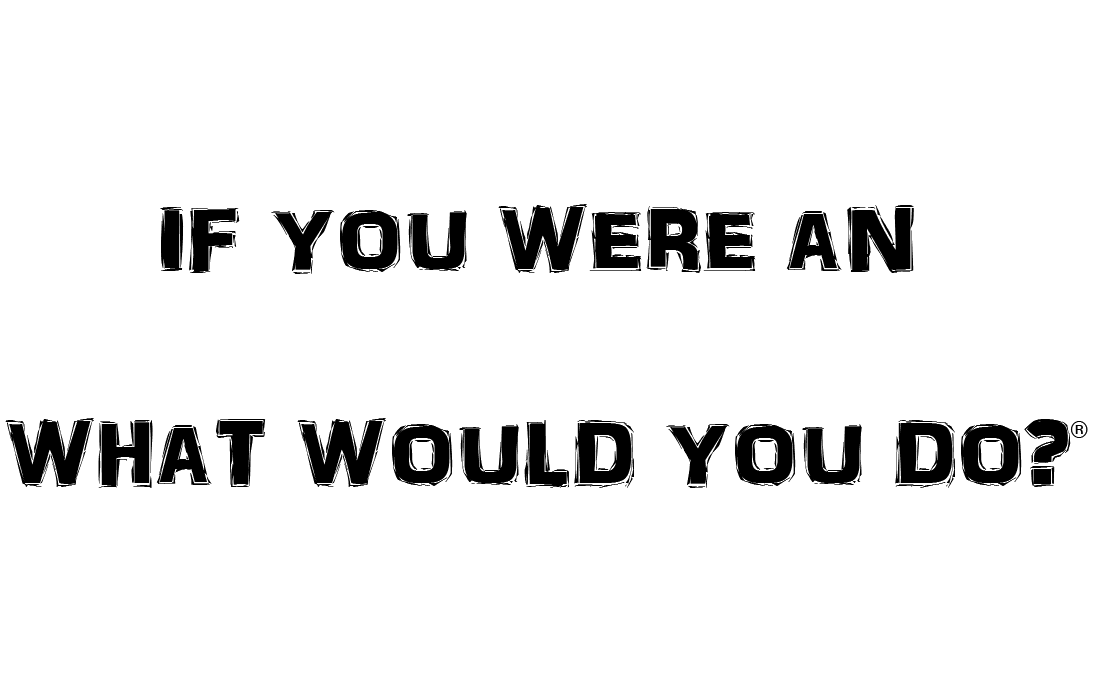 Meet an Engineer: online interviews
The Leaders Award #IfYouWereEngineerWhatWouldYouDo competition offers you a full timetable of engineer interviews to bring the Leaders Award to life for pupils at home and those still in school.
This is a great way to inspire your pupils' ideas for the Primary Engineer and Secondary Engineer competition 'If you were an Engineer what would you do?®'. Click here to access the new resources available for teachers, parents and carers delivering this programme to pupils at home.
Our Online Engineer Interviews aim to provide pupils with the chance to meet real life engineers in a virtual environment and discover the wide variety of disciplines engineering covers. In turn, this gives pupils an insight into engineering opportunities and careers and allows them to flex their engineering skillsets.
This year we are focusing on different themes such as space, sea, recycling, medicine, the environment and so much more. You can find videos of our previous engineer interviews on our YouTube channel
How do we get involved in the online Interviews?
STEP 1
To be a part of these inspiring events, please register to the #IfYouWereEngineerWhatWouldYouDo competition here! By doing this you will have access to all the Live Online Engineer Interviews and our free home learning and school resources. If you have already registered, go straight to step 2.
STEP 2
Click on the upcoming Engineer Interview  that you would like to attend in the right panel of the webpage. This will take you to Eventbrite where you can register for the event. Alternatively, click here to see a full list of our events.
STEP 3
Following your Eventbrite registration, you will receive an email with the link to the online webinar and the Engineer's child-friendly CV. Pupils can use this CV to do some research on the Engineer, more details of this are provided in the home learning and school resources in the Resource Area.
STEP 4
When you are ready to attend the webinar, click on the webinar link and wait for the interview to start. The Engineer and the Leaders Award team will not be able to see or hear you.
STEP 5
The engineer's presentation will last no longer than the first 15 minutes and, for the remaining 45 minutes, we will hold a Q&A Session. To ask a question, type it into the zoom webinar chat facility. Your Engineer will read out the questions and give their answers to camera.
STEP 6
Use your home learning and school resources to design and draw your inventions. Use our social media channels below to show us the amazing work you are doing!
Twitter @LeadersAward #LA2020 #IfYouWereEngineerWhatWouldYouDo
Instagram @primaryengineer #LA2020 #IfYouWereEngineerWhatWouldYouDo
Facebook LeadersAward #LA2020 #IfYouWereAnEngineerWhatWouldYouDo
STEP 7
Register for our newsletter here, follow us on social media or come back to this page to see announcements for new engineer interviews. You can also see our previous engineer interviews on our YouTube Channel.
UPCOMING ENGINEER INTERVIEWS: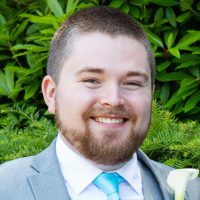 PREVIOUS ENGINEER INTERVIEWS: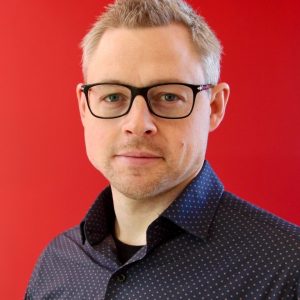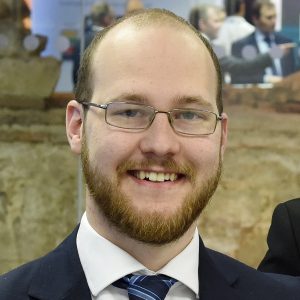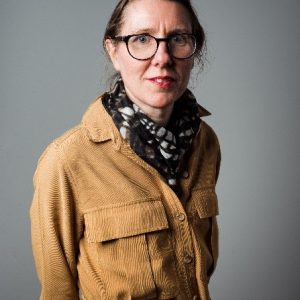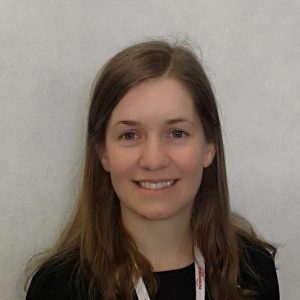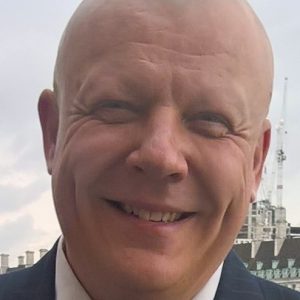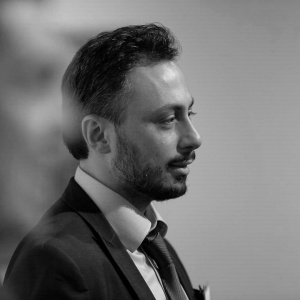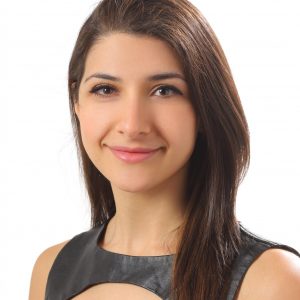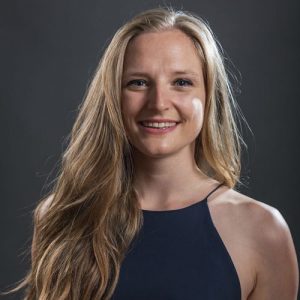 An artificial intelligence start-up based in Berlin. GHOST – feel it uses the sense of touch to make people move, feel or learn faster. For example, they create a car seat that taps the driver on the shoulder to make him look in this direction before overtaking.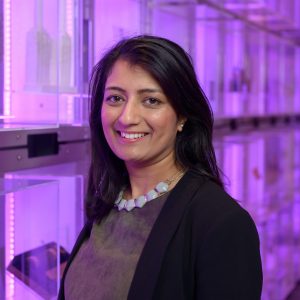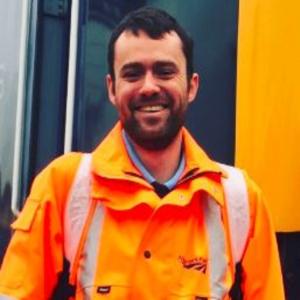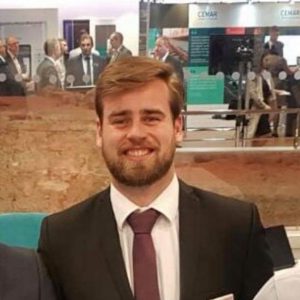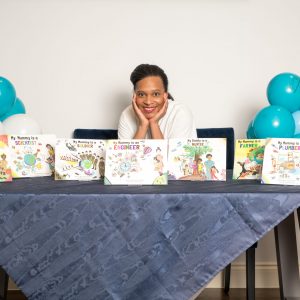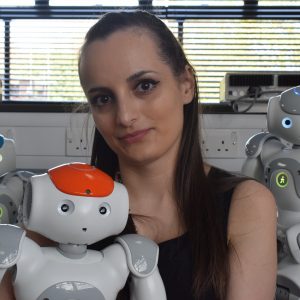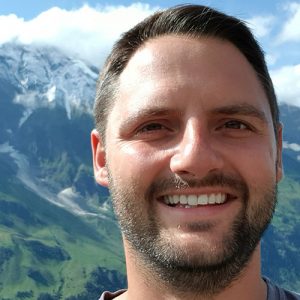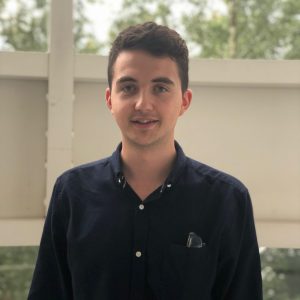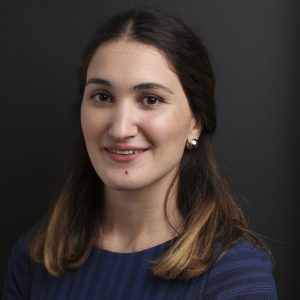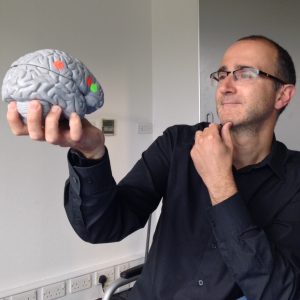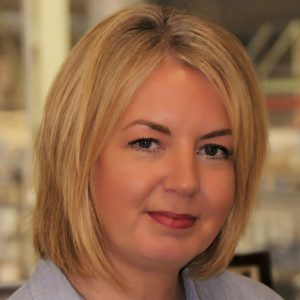 FRIDAY 6TH MARCH:
11:30 – Jack Hartland, Chartered Engineer and the Principal Mechanical Engineer at Gatwick Airport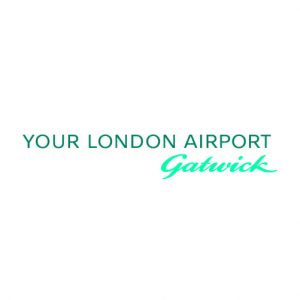 FRIDAY 6TH MARCH:
13:30 - The Proto Team from Canterbury Christ Church University building 'Lit Mat'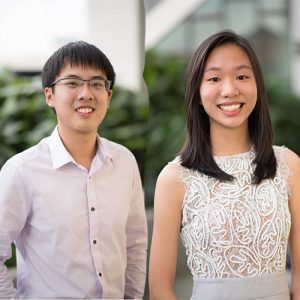 Read about Proto Team from Canterbury Christ Church University
To inspire your pupils, we are talking to the proto teams that are developing pupils designs when last years #IfYouWereEngineerWhatWouldYouDo competition. Starting with the Proto Team from Canterbury Christ Church University engineering students who are currently building the 'Lit Mat' by Ada from Phoenix Primary School, a light-up carpet allowing you to see at night. To activate the light, you will need to step on the carpet which will enable you to find your way through the dark.
FRIDAY 6TH MARCH:
14:30 - Anna Barney, Professor of Biomedical Acoustic Engineering from University of Southampton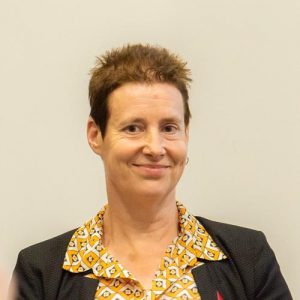 MONDAY 9TH MARCH:
10:30 - Ben Kenny, Production Planner from Veka PLC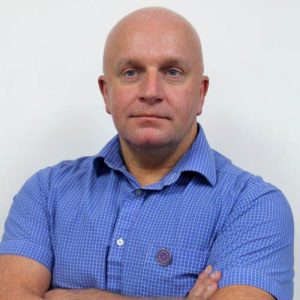 Ben Kenny has been involved with the Primary Engineer Programmes for many years. He has inspired and helped schools across Burnley. Ben has been a part of the Burnley #IfYouWereEngineerWhatWouldYouDo competition judging panel and shortlisted the SMA Jacket prototype. You never know he may give you clues of what designs inspire the judging panel to select winning ideas!
MONDAY 9TH MARCH:
11:30 – Naqash Khan, Aeronautical Graduate Engineer from Spirit AeroSystems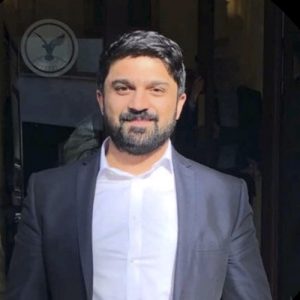 MONDAY 9TH MARCH:
13:30 - The Proto Team from Glasgow Caledonian University building 'Flat Pack Wind Turbine' & 'The Fair Ground Garden'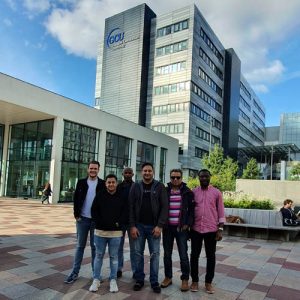 Read more about Proto Team from Glasgow Caledonian University
Our second proto team update is from engineering students at Glasgow Caledonian the team are working on two pupils' designs. 'The Flat Pack Wind Turbine' by Douglas from The Royal High School. The 'Flatpack Wind Turbine' is designed to get electricity to refugee camps, where there is barely enough room for all of the refugees to sleep.
The second build which has been chosen was designed by Patrick, from Willowbank School, with the 'The Fair-ground Garden' to enable wheelchair users to plant their favourite flowers and herbs. All the planters are secured in a rotating bolt, which allows the planter to stay upright at all times.
MONDAY 9TH MARCH:
14:30 - Bethany Welsh, Apprentice Civil Engineering Apprentice from Balfour Beatty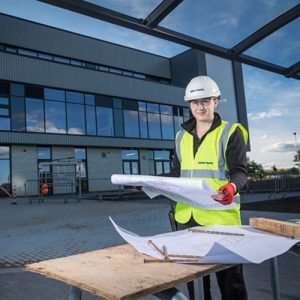 TUESDAY 10TH MARCH:
10:30 – Dr Matt Dickinson, Senior Lecturer in Computer-Aided Engineering at the University of Central Lancashire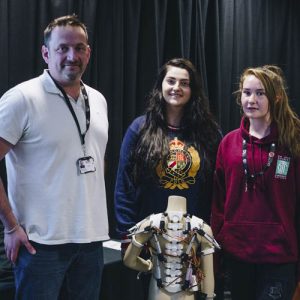 Dr Matt Dickinson help build the prototype of the 'SMA Jacket' by Krystyna from Sir John Thursby Community College. The 'SMA Jacket' was a winning design at the Burnley #IfYouWereEngineerWhatWouldYouDo competition in 2018 and, in 2019, was built at UCLan.
Matt chose to build the jacket and continues work in developing the prototype.
TUESDAY 10TH MARCH:
11:30 – John Ritchie, Design Engineer at 4C design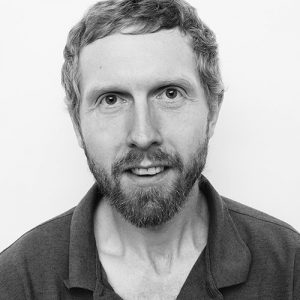 TUESDAY 10TH MARCH:
13:30 – Professor Mark Miodownik, Materials Scientist & Engineer from UCL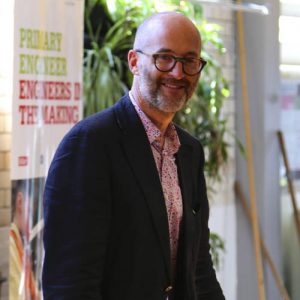 Professor Mark Miodownik has a PhD in turbine jet engine alloys, he has worked as a material scientist in USA, Ireland and the UK. His research in materials has links to arts and humanities to medicine, engineering and materials science. Mark is a broadcaster, a writer on science and engineering issues!
TUESDAY 10TH MARCH:
14:30 – Tony Yates, Head of Engineering at Gatwick Airport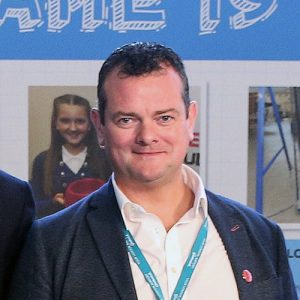 WEDNESDAY 11TH MARCH
10:30 - Miles Franklin, Lead Engineer from Gravitricity
Miles is Lead Engineer for Gravitricity which creates renewable energy by the simple principle of raising and lowering a heavyweight to store and release energy. The Gravitricity system suspends weights of 500 – 5000 tonnes in a deep shaft by several cables, each of which is engaged with a winch capable of lifting its share of the weight.
WEDNESDAY 11TH MARCH
11:30 - University of Strathclyde Team Proto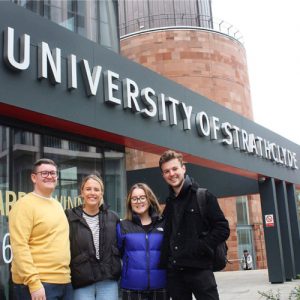 Read more about University of Strathclyde Team Proto
The University of Strathclyde engineering students is the original team proto building the legendary 'Trolley for the Elderly' by Aidan in 2015. Meet this year's team proto who are building the 'Whale of Litter' by Lacy. A whale that will pick-up all the rubbish in the sea and has an extendable arm to cut the plastic that is caught around fish. Lacey said that plastic is bad for the world and takes too long to break down.
They will present pupils with an update of the build and why they decided to build Lacy's design.
Get your questions ready as you never know next your pupil's design could be made next year!
WEDNESDAY 11TH MARCH
13:30 – The Proto Team from Kingston University – Technicians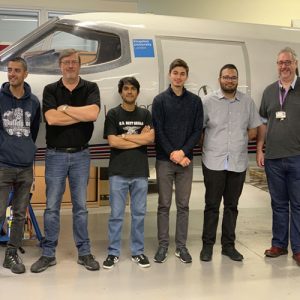 Read more about Kingston University Technicians
We would like to introduce to you Kingston University engineering technicians that have helped develop, build and advise engineering students proto builds. Rob and Sean have foreseen the 'Electricity Making Trampoline', the 'Truggy', 'The Magnetic Shirt', The Extending Sink' and the 'Bicycle Sucker'. Currently, the team are building:
The Motor Turbine, by Zaynah from Old Palace of John Whitgift. The 'Motor Turbine' would help reduce the number of energy fossils fuels provide for us, by turning it into renewable energy. It contains solar panels on the blades and catches the wind from speeding cars on the motorway.
The 'Projector Bike Kit', by Eben from Eleanor Palmer Primary School. The 'Projector Bike Kit' is a kit that contains a small cube projector, attached to the rear mudguard of a bike which is aimed directly up the cyclist's back and shows projections, acting as a reflector screen. Cyclists will be kept safe from harm, with this device.
For Jersey:
The 'Seater Scooter', by Ameya from Beaulieu Primary School. The "Seater Scooter" – ostensibly a foot-powered scooter but features a seat that rises hydraulically when the driver becomes fatigued.
WEDNESDAY 11TH MARCH:
14:30 – Anthony High, Aeronautical Graduate Engineer from Spirit AeroSystems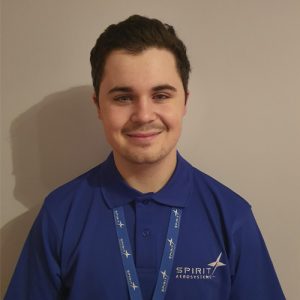 THURSDAY 12TH MARCH
10:30 - Naziyah Mahmood, Aerospace Engineer & Astrophysicist from Scottish Engineering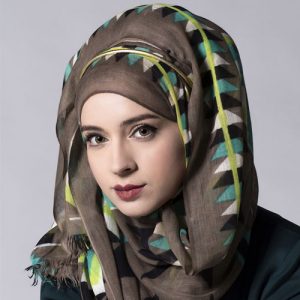 With a deep passion for STEM, Naziyah is an astrophysicist and aerospace engineer, having worked on several European Space Agency (ESA) satellite missions. This has included work on mission subsystems such as mission analysis, propulsion subsystems, data and trajectory analysis and more.
Naziyah is currently also the Gender Equality Expert for Scottish Engineering, through which she delivers training to engineering organisations on how  to become more equal and diverse.
As a STEM Ambassador (often with a focus on equality, diversity and inclusion within the sector) she works to break the many stereotypes of women in STEM, and especially of those from BAME backgrounds, and to increase the STEM uptake for all.
Naziyah also works to create safe physical and digital spaces for all self-identifying women and girls in Scotland, and works closely with many organisations, and with the Scottish Parliament, to change the political narrative.
With an involvement in many male-dominated fields, including as a martial artist of over 20 years, she aims to not only normalize the image of women within these fields, but also to shine a light on the work needed on inclusivity of all kinds within all fields.
THURSDAY 12TH MARCH:
11:30 – Team-proto University of Southampton Engineering Students building the 'Beach Plastic Collector inspire by 'Habtech Plastic 3000' by Freddy from Crowmarsh Gifford CE Primary School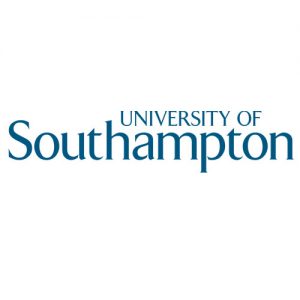 THURSDAY 12TH MARCH
13:30 - Dave Coplin, Chief Envisioning Officer from The Envisioners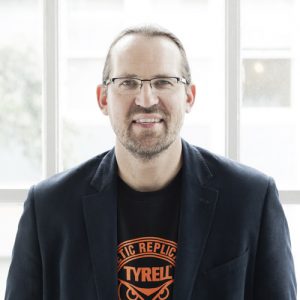 With over 25 years in the technology industry and, most recently, working across Microsoft's UK business to orchestrate and implement an integrated "thought leadership" strategy that addressed Microsoft's potential with UK government, customers and consumers, Dave is at the forefront of conversations around how individuals and organisations can benefit from the transformational potential that technology offers, rather than simply using it to do the same things, but only slightly better.
Dave has now set up his own successful business 'The Envisioners' which provides strategic advice and guidance around the impact of technology on modern society.
FRIDAY 13TH MARCH
10:30 - Jenny Roberts, Mechatronic Engineer from Lancaster University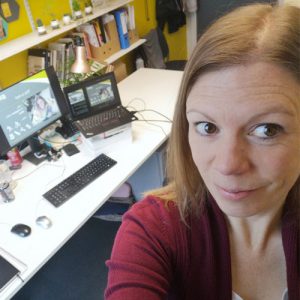 Since deciding she wanted to be an engineer, Jenny always wanted to work on projects that benefit people and, as such, has been involved with designing a variety of things such as safety devices, playground equipment and disabled aids. Jenny loves being an engineer and being able to take a wacky idea and turn it into something that really works!
After a successful period in industry with inventions such as BridgeCat, i-play and numerous smaller gadgets, Jenny is now a Lecturer in Engineering at Lancaster University.
During the 2018/19 #IfYouWereEngineerWhatWouldYouDo competition, Jenny inspired a massive 11 Trophy Winners to their triumphant results.
FRIDAY 13TH MARCH:
11:30 – Graeme Ralph, Principal R&D Engineer from Spirit AeroSystems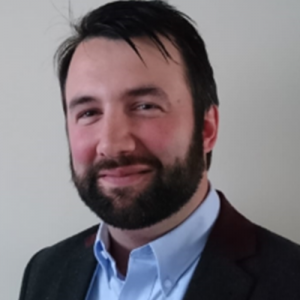 FRIDAY 13TH MARCH
13:30 - Miriam Cristofoletti, Robotics Engineer from Renishaw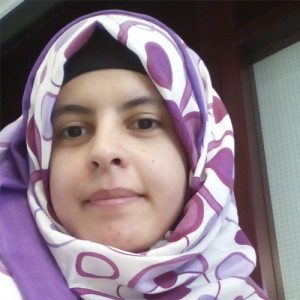 Miriam is a Roboticist and Electronic Engineer at Renishaw and, during #IfYouWereEngineerWhatWouldYouDo last year she was part of the Proto Team at UWE who built RIBS (a brake-light system for vehicles) as a proto-type as invented by Year 8 student Philippa from Hugh Sexey C of E Middle School in Bristol. Miriam also inspired the inventions of 5 Trophy Winners during the Leaders Award 2018/19.

Leaders Award 2019-2020 Registration Open Now!
Deadline 25th March 2020.