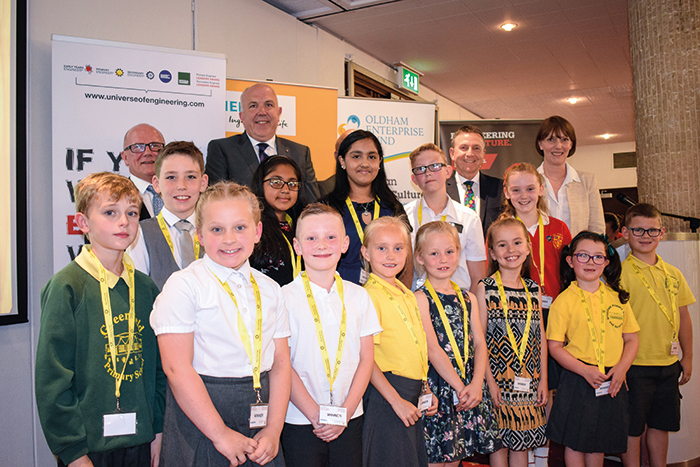 Manchester Leaders Award 2017
Our final Leaders Award for 2017 finished in Oldham at the Queen Elizabeth Hall for the Greater Manchester Leaders Award and what an event it was! The night was jammed packed with over 170 guests and 200 pupils' inventions displayed. For the first time running the programme in Greater Manchester it was an enormous success and everyone who attended was blown away with the Primary and Secondary Greater Manchester school pupils ideas to solve the question, 'if you were an engineer, what would you do?'
We were joined by Dave Benstead HR Director Diodes Zetex, Wayne Jones Member of the Executive Board of MAN Diesel & President of Greater Manchester Chamber of Commerce, Robin Philips Finance Director of Siemens Digital Factory & Process Industries and Drives and the Deputy Mayor of Oldham Councillor Javid Iqbal who all spoke and awarded the winners of the evening. Our Masters of Ceremonies for the evening was Alexandra James Siemens UK Education Outreach, who has been helping the Leaders Award spread across England and did an outstanding job in taking charge of the award ceremony.
The overall winner on the evening was Joshua Wilson from St Paul's Primary School Oldham, a Year 3 pupil who was inspired by Andy Wilson to invent the "Bin Scanner," a device attached to bins that enables the user to scan an item of rubbish to ascertain whether it is recyclable or otherwise.
We would like to thank Siemens, Oldham Enterprise Trust, Greater Manchester Chamber of Commerce, Oldham Council and The Stroller Charitable trust.
To find all out all the winners from Greater Manchester Leaders Award 2017 please click here