Feeding the minds of future engineers and growing the talent pool

5th October 2018 – London. Primary Engineer has today announced the roll out of the 2018/2019 Primary Engineer & Secondary Engineer Leaders' Awards which were created by Dr. Susan Scurlock in 2013 to encourage children into STEM subjects and ultimately feed the engineering talent pool of the future. Presenting to an editors' briefing in London, Chris Rochester, UK Director, Primary Engineer said: "In 2017/18 academic year we continued to develop our programmes across the UK which included working with 988 schools, 3,833 teachers and 1,325 engineers. Each one getting involved and helping nearly 57,000 children to understand that engineering is a broad profession with myriad opportunities. It emphasises engineering is a diverse sector which thrives on ingenuity and creativity of the professionals working within it".
Last year the Leaders' awards, which operate across the country, inspired over 37,000 children from 3-18 to tap into their inner engineer by answering the question "If you were an engineer, what would you do?". This year, Primary Engineer has increased the reach of the awards by adding more regions to the existing list. It expects entries to swell even further during the next academic year.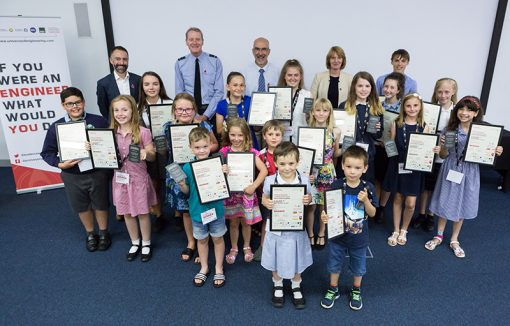 By answering the question posed by Primary Engineer, children are encouraged to think of a problem that affects them or the wider community, interview an engineer and draw their idea. "We have pools of engineers, from large and small engineering firms with a wide range of experience, each one is keen to help to access the vast lakes of talent that sit in the school system to demonstrate that engineering has an essential role to play within the world" added Rochester.
Engineers are then invited to grading days around the UK to help grade the entries. This exercise turns out around twenty winning entries per region which are recognised at a local awards ceremony. The university partner then has the opportunity to select one of the entries to build into a working prototype.
Showcasing some of the previous competition entries to the gathered editors, Rochester explained the ideas behind the Roll Over Bench, The Fun Noisy Rubbish Bin and The Electricity Generating Trampoline, which were selected over the past couple of years by university prototype teams to build into working models.
In the South West, the Leaders Award is supported by Defence, Equipment and Support (DE&S), the MOD's procurement organisation, along with the University of the West of England, UWE Bristol.
Air Marshal Julian Young, Chief of Materiel Air, and who is the Ministry of Defence's Engineering Champion and lead Science, Technology, Engineering & Mathematics (STEM) Ambassador for DE&S, said: "I am delighted that the Defence Sector is rising to the challenge of increasing its diversity in our Engineering profession, whether that is cultural, gender or nationality, and we are working closely with a range of STEM-related organizations, including Primary Engineer, to help to encourage young women and girls to not only express an interest in Engineering, but to follow that through into a career and a successful one at that!"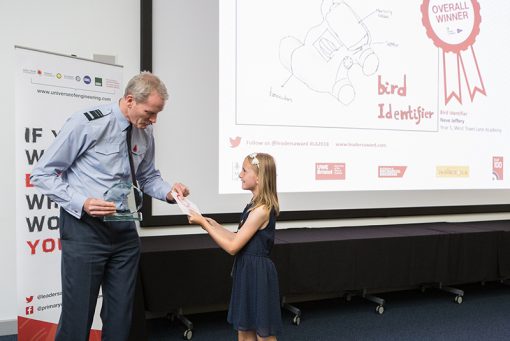 Two female engineers from Defence, Equipment and Support also gave accounts of their personal journeys into engineering, May Holmes started her career as a primary teacher – unaware there was more than one kind of engineering aside from civil engineering – before joining DE&S as a mechanical engineer.  She said: "Not all young people are lucky enough to be introduced to and experience STEM, which can be to the detriment of younger generations reaching their full potential as well as to STEM professions – particularly with current and predicted future skills shortages in STEM roles. 
"Through programmes such as Primary Engineer, I enjoy challenging young people's perception of what Engineering is, who an Engineer is, and encouraging all young people that it can, in fact, be for everyone."   
UWE Bristol are supporting the South West Leaders Awards and hosting the winners' Awards Ceremony. A team of female student engineers from the UWE Women in Science and Engineering Society will build the winning design from 2018. Alongside this, UWE Bristol is galvanising support from local industries through their Women Like Me mentoring programme, where local female engineers will work with schools over the coming year.
Dr Laura Fogg-Rogers, who is the project lead and a science communication researcher at UWE Bristol, said: "Engineers are highly creative people who can help to solve many of society's problems. It's a really collaborative profession, where you have to work together in teams to see your visions and designs come to fruition. The range of roles and careers is really diverse, and that's what we'd like to emphasise to all young people, particularly girls. You can make your own mark in engineering!"
Primary Engineer is encouraging more engineers to join the fold and help contribute to securing the future supply of talent to the sector. Engineers can sign up to give their time by visiting www.leadersaward.com