Burnley – Eighteen local pupils win coveted regional Primary Engineer prizes at Burnley College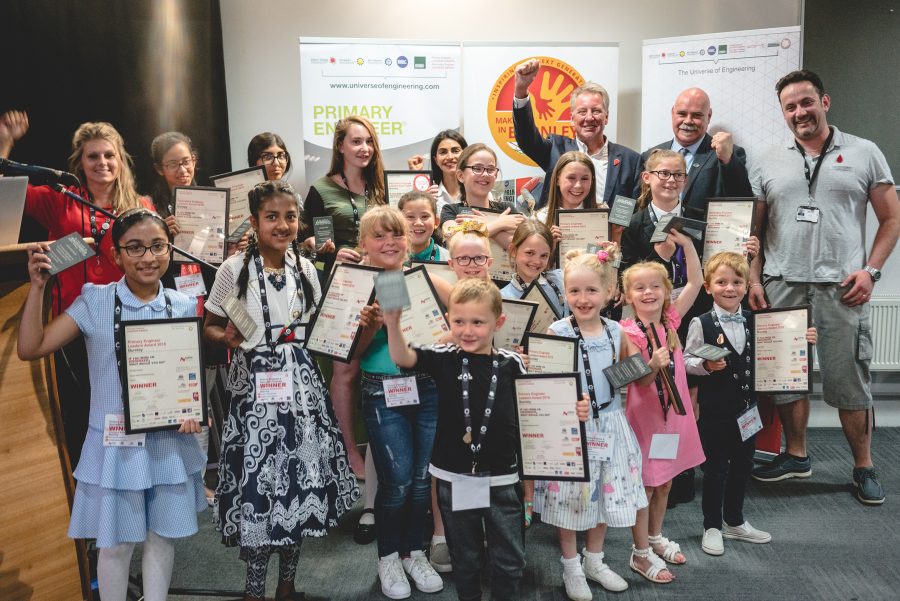 If you were an engineer what would you do? That was the question posed to children from across Burnley and Padiham in the Primary Engineer and Secondary Engineer Leaders Awards 2018. Eighteen bright sparks were selected as winners from over 1100 entries from across the region – Twelve pupils from Burnley and six from Padiham received recognition for their efforts. The competition, which was funded by Burnley Borough Council and AMS Neve and supported by Siemens and UCLan, featured winning entries including: Punch Power, Flying Pothole Repair, Fruit Picker and Rain Cover.
Councillor Mark Townsend, leader of Burnley Council, said: "I enjoyed a fantastic evening at Burnley College for the Primary Engineer leaders awards and it was a huge privilege to present the awards to our problem solvers and engineers of the future.
"Burnley is building its reputation as a world-leading centre of engineering excellence and the young boys and girls involved in the Primary Engineer Leaders Awards are the potential innovators and entrepreneurs of tomorrow. They need our encouragement to develop skills and learning that will see them through their entire lives and Burnley Council is delighted to be a leading supporter of this initiative. I'd also like to thank all the local businesses and partners for also getting behind this great programme and supporting the next generation."
The Primary and Secondary Engineer Leaders Awards give children the opportunity to design a solution to a problem with an explanationof why their idea should be made into a working prototype. Burnley College is the educational partner for the Burnley Leaders Awards – it hosted the awards presentation on July 9th. A public exhibition of shortlisted and winning designs was also held after the event. Later this year, a team of technicians and students from University of Central Lancashireare going to turn one of the winning designs into reality by building a working prototype of a pupil's design.
Thousands of entries were shortlisted and two winners per year group across Primary and Secondary school ages were presented with their awards by Councillor Townsend.
The competition is particularly relevant as 2018 is the Government's 'Year of Engineering' with entries highlighting the enthusiasm amongst local schools and engineers for STEM (Science, Technology, Engineering and Mathematics) opportunities.
Alex James, Schools, Education and Outreach at Siemens said: "Siemens is delighted to support the Primary Engineer Leaders Awards, a growing programme which encourages children to tap into their inner-engineer, we are excited to be part of an inclusive initiative that encourages creativity, innovation and confidence".
The competition, created and managed by Primary Engineer Programmes, is designed to provide an opportunity for children and pupils to interview engineers about their career paths and motivation.
Dr. Susan Scurlock, CEO and Founder of Primary Engineer said: "I am so proud of everyone who entered the competition and, of course, the engineers who supported it by being interviewed by the pupils. The creativity shown by the entrants has been remarkable and I hope that the Primary Engineer and Secondary Engineer Leaders Awards will encourage young people to embrace engineering and seriously consider it as a career choice when the time arrives".